FiberYum is now part of the KetoGoods family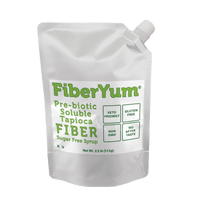 Same clean ingredients / Same clean taste
We are pleased to add FiberYum to the KetoGoods family and continue to build on its history of promoting the plant-based lifestyle.

The new FiberYum by KetoGoods will be available in the same sizes and at the same prices as before, with a new 1lb/16oz product coming soon! Sign up today to get the latest announcements.

FiberYum will be replacing our Pre-Biotic Tapioca Fiber product as the brands merge and packaging may vary for a short while during the process. Thanks for your patience!
Subscribe to earn 10% off your next purchase.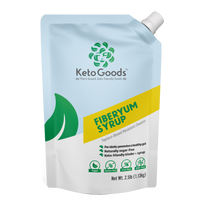 Who are we?
KetoGoods is a family-owned business that focuses on direct-to-consumer sugar replacements. Everything we sell is keto-friendly, plant-based, and non-GMO. All of our products are things we use personally, and which have helped us to live a healthier, low carb life!
Read More
Recent blog posts:
What is a prebiotic and why do you need one?
According to the Mayo Clinic, prebiotics are specialized plant fibers which act like fertilizers that stimulate the growth of healthy bacteria in the gut. They are not digested by your body, and so they make a very effective source of food for the good bacteria found in your gut. The list of benefits involved in consuming prebiotics is extensive and growing.
blog post
KetoGoods Fudgy Brownie Recipe
A delectable, moist and fudgy brownie recipe that takes advantage of KetoGoods Allulose and Prebiotic Tapioca Fiber syrups. Makes an excellent brownie without adding regular sugar.
Recipe
KetoGoods Chocolate Zucchini Cake with Glaze
An incredibly simple low-carb cake that's moist, sweet and full of texture. It's covered in a chocolate glaze that you simply cannot miss!
Recipe
I've been able to replace every last bit of sugar in my diet using KetoGoods allulose syrup. I love it!

Matt Younger
We use both allulose syrup and the prebiotic fiber to sweeten our company's protein bars. We're planning to use it in chocolates and fat bombs as well!

Allison Binshtok
I love the environmental initiative that KetoGoods is taking in using soft packaging. It takes up less space in my cabinet too.

Marie Cooper
Contact us
Got questions? Email us at hello@ketogoods.com or click the link below to fill out a contact form.
We look forward to hearing from you!
Contact us