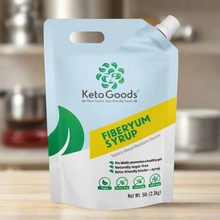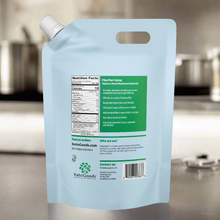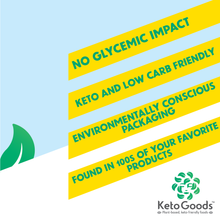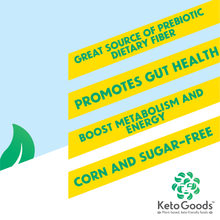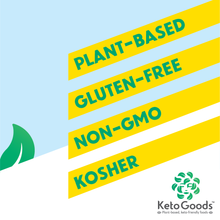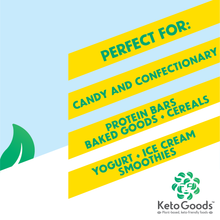 FiberYum is now part of the KetoGoods
™ Family!
(Packaging may differ from the images as we transition the product into our business)
FiberYum by KetoGoods Prebiotic Soluble Tapioca Fiber (resistant dextrin):
Pre-biotic:
Promotes a healthy gut biome¹
Helps the body get rid of unwanted gut bacteria¹
Improves metabolism & energy levels²
Aid the body's neurotransmitter production³
Great for weight loss -- increases satiety and digestive efficiency⁴
For more information about prebiotics, see

 

here
Keto-friendly
No glycemic impact⁵
Low calorie
1 net carb
High in dietary fiber
Functional equivalent to soluble corn fiber and soluble vegetable fiber
This is tapioca-based resistant dextrin.
FiberYum Prebiotic Tapioca Fiber by KetoGoods is perfect for:
A fiber supplement and to promote digestive health
Homemade protein bars and other no-bake goods
Reducing the need for fat and regular sugar as a binder in baked goods
Yogurt and ice cream
Keto and low-carb baking
Adds moisture and works well as a binder
A base for your own custom-flavored ketogenic syrups, sauces, and dressings
Making candies, confectionaries, and chocolates
Replacing IMO, FOS, Chicory Root Fiber, and Inulin in recipes
Products containing Prebiotic Vegetable Fiber
Protein bars
Energy and recovery beverages
Candies and confectionery
Ice creams
Chocolates
Other terms for Prebiotic Tapioca Fiber:
Soluble Vegetable Fiber
Soluble Corn Fiber
Non-GMO Tapioca Fiber
Soluble Fiber from Tapioca
Soluble Fiber from Corn
Digestion Resistant Maltodextrin
Resistant Dextrin
Prebiotic Soluble Fiber
Prebiotic Corn Fiber
Digestion Resistant Dextrin
Soluble Tapioca Fiber
Non-GMO Corn Fiber
Compare to Vitafiber
* - These are studied benefits of prebiotics.

Click here for wholesale inquiries.
Footnotes: 
1) Gibson, G., Hutkins, R., Sanders, M. et al. Expert consensus document: The International Scientific Association for Probiotics and Prebiotics (ISAPP) consensus statement on the definition and scope of prebiotics. Nat Rev Gastroenterol Hepatol 14, 491–502 (2017). 
2) Dewulf, E. M. et al. Insight into the prebiotic concept: lessons from an exploratory, double blind intervention study with inulin-type fructans in obese women. Gut 62, 1112–1121 (2013).
3) Schmidt, K. et al. Prebiotic intake reduces the waking cortisol response and alters emotional bias in healthy volunteers. Psychopharmacology (Berl.) 232, 1793–1801 (2015).
4) Cani, P. D. et al. Gut microbiota fermentation of prebiotics increases satietogenic and incretin gut peptide production with consequences for appetite sensation and glucose response after a meal. Am. J. Clin. Nutr. 90, 1236–1243 (2009).
5) Livesey, Geoffrey, and Hiroyuki Tagami. Interventions to lower the glycemic response to carbohydrate foods with a low-viscosity fiber (resistant maltodextrin): meta-analysis of randomized controlled trials. The American journal of clinical nutrition 89,1  114-25. (2009)
Contact us
Got questions? Email us at hello@ketogoods.com or click the link below to fill out a contact form.
We look forward to hearing from you!
Contact us